BLOOMINGTON – All teddy bears need tender love and care.
A group of about seven nurses from OSF St. Joseph Medical Center showed more than a dozen children on Saturday how they provide medical care at a "Teddy Bear Clinic." Bloomington Hospital partnered with its new neighbors by hosting the free event that morning at the Bloomington-Normal YMCA.
Sheri Piper, director of nursing at OSF St. Joseph, said the clinic was held to help honor Perioperative Nurses Week, which ended Saturday. This area of ​​nursing, she explained, covers patient care before, during and after surgery.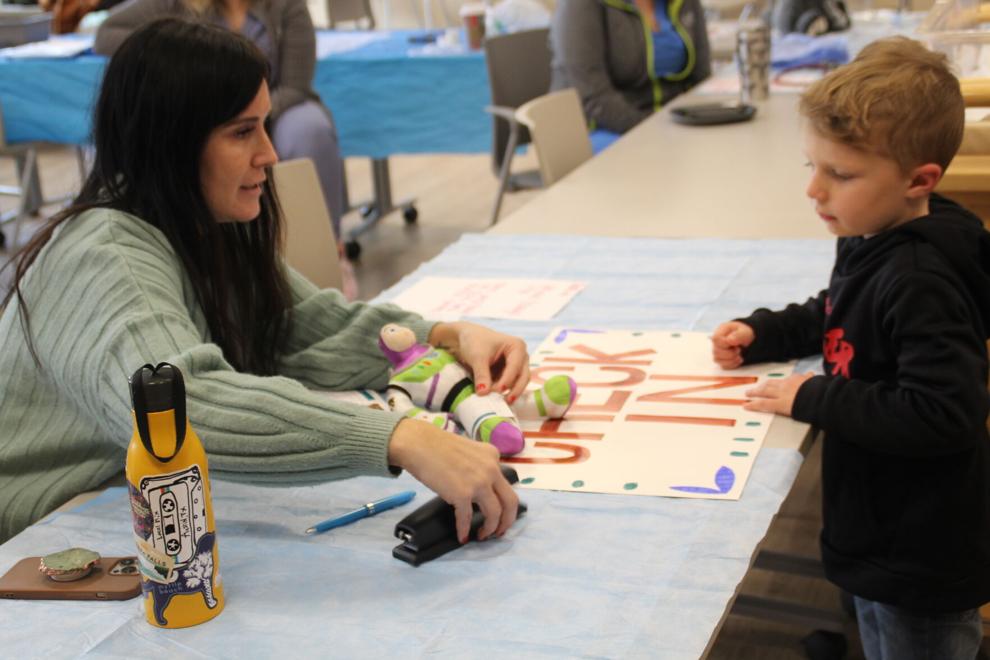 Friends, family, apple pie: What LeRoy Elementary first-graders are grateful for
Another part of the clinic was to familiarize the children with medical equipment and make them more comfortable with their next hospital visit, according to Kristin von Nordheim, OSF nurse and clinical educator at the Family Care Center.
Some of the clinic's patients included a large teddy bear, a shark, Buzz Lightyear, two tigers and a "bun-bun," Piper said.
Lisa Thoennes brought two of her children: Jack and Luke Thoennes, 6, both from Bloomington. The two boys came with their stuffed animal named "Big Dino".
The mother agreed that the clinic was a great learning experience for the children.
"It's so good," Thoennes continued. She said if they don't have these experiences, they won't know what's going on in a hospital.
Registration
The children and their patients passed through five stations at the clinic, each staffed by a nurse. Piper ran the check-in station and Courtney Bier, a registered nurse and manager of the OSF intensive care unit, helped the children push their stuffed animals into a bassinet cart for transport.
Rhett Goodale, four, from Minonk, brought in Buzz Lightyear for a checkup. He said he liked pushing Buzz in the cart.
Von Nordheim worked at the pre-surgery station, showing the kids supplies like stethoscopes and bouffant caps. She said she enjoyed the children's curiosity and listening to their questions.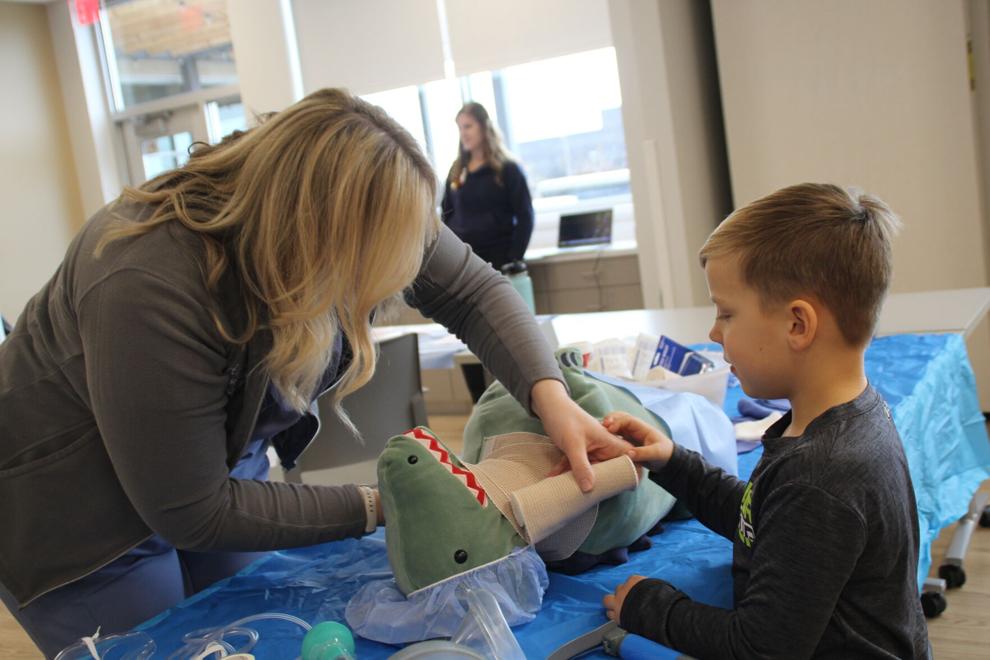 Lincoln College TV, radio programs find a warm welcome in Eureka
Then, at the surgery station, Amanda Repplinger, nurse and educator for OSF Perioperative Services, explained how they use anesthesia, do stitches, and have patients dressed in gowns.
She also helped the Thoennes boys heal a tear in Big Dino's neck.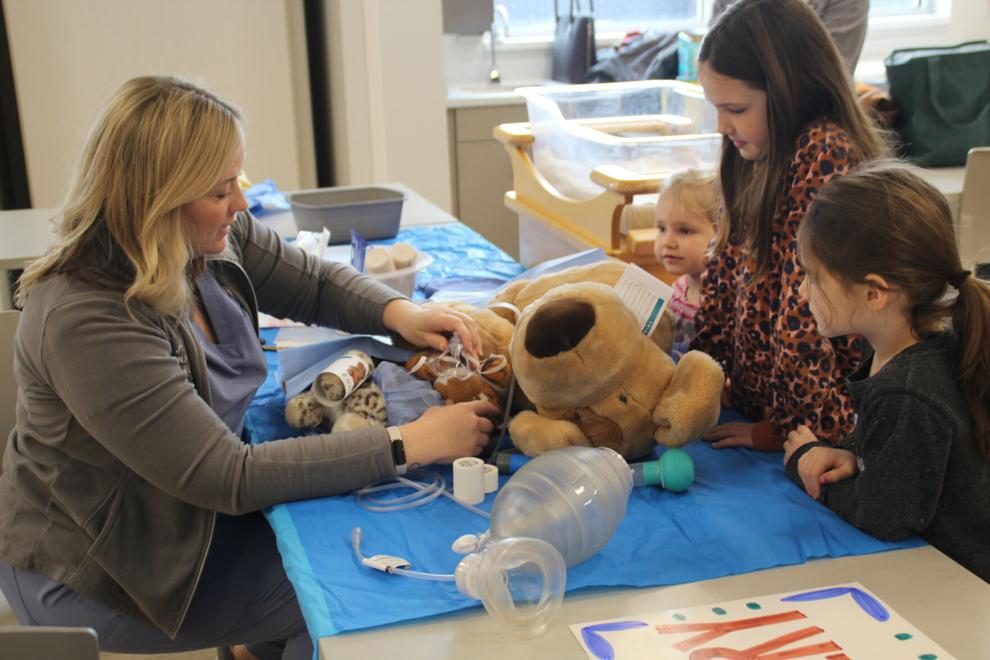 Eight-year-old Ellie Powell arrived at the clinic with her grandmother and two sisters, Karis and Chloe Powell, 6, 2. They each had a stuffed animal; Ellie's is a white tiger named "Zoe".
Ellie Powell said Zoe had a cold and the nurses told her they would give her medicine for the tiger.
After the surgery, there was a recovery station, run by OSF orthopedic and neurology registered nurse Meghan Lehman. She took patients' vital signs like blood pressure, and said it was great that they could start educating children about health at a young age. Lehman said that by interacting with things like IVs beforehand, kids won't be afraid of them in the future.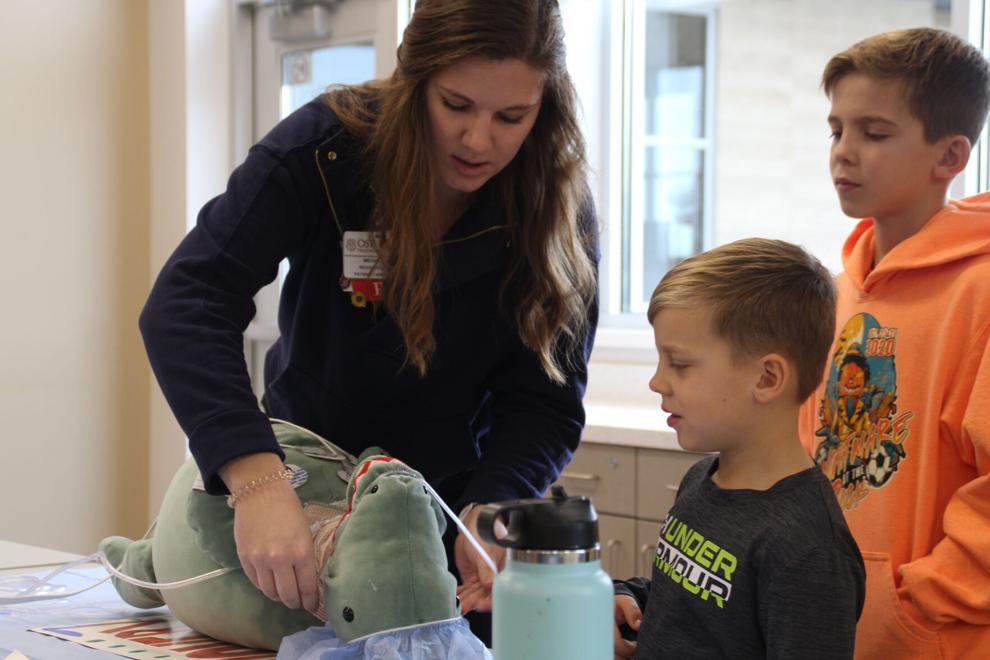 5 questions to Mackenzie Laesch of The Place for Children with Autism
Most of the OSF nurses attended voluntarily, with the exception of Lisa Strack, whose unpaid training hours at the clinic counted toward her trauma certifications. Strack talked to the kids about general safety tips, when to call 911 and when to "stop, drop and roll."
Lisa Pittman, vice president and chief nursing officer of OSF HealthCare, said the clinic was ideal for children.
"That's what our amazing nurses do every day," she said, adding that their efforts reduce patient stress and anxiety.
Pittman said the clinic is also a great opportunity to make health care and hospital visits less scary for children who may not have been exposed to medical settings before.
Piper said the OSF really helps nurses get involved in the community and in education.
She said the clinic "aligned perfectly" with that. And, it was fun.
Every parent wants their child to grow up to be a good and kind adult who has a positive impact on the world.
Now that many people are working from home, many households are using more electricity than ever before. Here are some tips to make your h…
Hurricanes can be extremely dangerous, so it's important not to underestimate them. Here are three mistakes you should avoid making while…
It can be very easy to overeat, whether out of hunger, boredom, or just for comfort. But fortunately, Jamie Nadaeu, registered dietitian…
According to scientists from Johns Hopkins University, the current situation when a tablet makes a big difference in the rate at which the body absorbs…
Climate change has resulted in more natural disasters such as hurricanes occurring every year. If you don't know how to prepare for the hurricane…
If you're looking for a healthy everyday cooking oil, you might be comparing coconut oil and olive oil. Here's how to know which of the two…
Sometimes no amount of rest or healthy eating can prevent bags under the eyes, but there are several ways to get rid of them. Here are three of…
Although your chance of being struck by lightning is low, it is important to know how to stay safe during a thunderstorm.
Here are some ways to keep your food safe in the fridge and freezer during a power outage.
We often get messages saying that bread is one of the worst foods you can eat. There are entire diets centered on cutting out bread and other…
Veuer's Elizabeth Keatinge tells us how you can prepare for a hurricane in the healthiest way possible.
Researchers claim to have found the perfect way to put a crying baby to sleep.
Parental stress can have significant negative effects on family dynamics. Try these tips to ease your stress. Chloe Hurst from Veuer has the story!
Coronary heart disease is one of the leading causes of death worldwide. Here are four key ways to optimize your heart health.
Contact Brendan Denison at (309) 820-3238. Follow Brendan Denison on Twitter: @BrendanDenison