Responding to high demand for IVF and assisted reproduction treatment in the region, Monash IVF is enhancing its services for patients in Penrith.
Work is underway for a new clinic at the Somerset Specialist Center in Somerset Street, Kingswood, which is due to open in July.
The new center will be located a short distance from the current clinic and laboratory on Barber Avenue which opened less than three years ago.
Monash fertility specialist Dr. Nikhil Patravali, who is also chief of gynecology at Nepean Hospital, told The Weekender he was delighted to provide first-class healthcare to local patients.
"In our current clinic, we have rooms on one floor, the lab on one and the theater on another, so we've consolidated everything onto one floor so patients know exactly where they need to go, reducing anxiety," Dr. Patravali said.
"It will be state of the art, but not just in terms of looks, but the lab equipment and the extra space will allow for bigger and better equipment."
The new location will include consultation rooms for doctors, two ultrasound rooms, a transfer room connected to a large laboratory and spaces dedicated to the healthcare team and a counsellor.
More than double the number of new patients registered for treatment with Monash IVF Penrith between July 1 last year and April 30 this year compared to the entire financial year of July 2020 to 30 June 2021.
"We've seen a big increase in cases, about a 53% increase in patients, which I think is due to patients perceiving good service," Dr Patravali said.
"Patients have gone through treatment and are now referring family and friends, so it's great that we're doing a lot of blood sampling and testing in-house to make it accessible and easy."
Seeing increased demand for egg freezing and recent government financial support allowing more patients to access preimplantation genetic testing, Dr. Patravali said he was honored to help people achieve their dream of parenthood.
"Monash IVF supports heterosexual couples, singles who want to get pregnant through donor programs, same-sex couples, and even surrogacy for women unable to carry a baby," he said.
"One in six Australian couples will struggle to conceive, but for heterosexual couples we can expect a success rate of up to 45% with IVF, which is quite high.
"I live in Penrith so I want to provide quality care to the local community and it's great that patients don't need to travel to Sydney to receive obstetrics, gynecology and fertility care from high quality, because everything is available. here."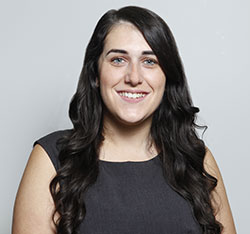 A graduate of Western Sydney University, Emily covers local, state and federal politics for The Weekender, as well as crime and general news.